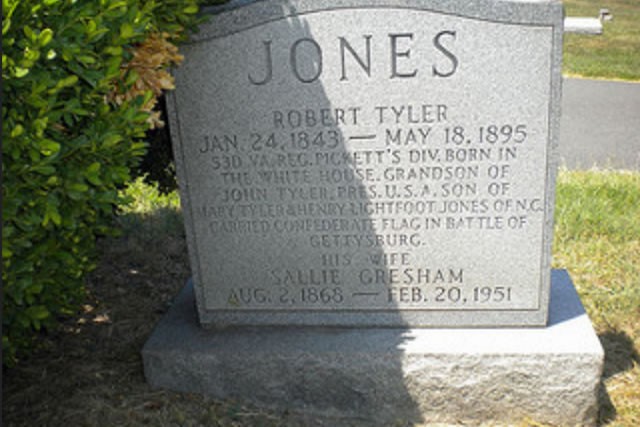 Robert Tyler Jones
Born January 24, 1843
Died May 18, 1895
Place of birth: The White House, Washington, D.C.
Place of death: Washington, D.C
Buried: Chestnut Grove Cemetery, 831 Dranesville Road, Herndon, VA
How Died: unknown
Military Service: Confederate Army
Military ranks held: Private, Sergeant, Color Sergeant, Ensign and 1st Lieutenant
Units: Company K, 53rd Virginia Infantry
Battles/engagements: 2nd Manassas, Peninsula Campaign, Gettysburg, Cold Harbor, Danville, VA.
On the afternoon of July 3rd, 1863, Sergeant Robert Tyler Jones stepped out of the shade of the trees bordering the seminary ridge and quick marched a long mile across Gettysburg farmland with Armistead's brigade in Pickett's division. One of ten color guards at the start of the march, Jones watched eight of his fellow guards die and a 9th fall wounded in combat before taking on the colors himself. Wounded in the arm, Jones carried the battle flag through the Union line at the bloody angle of the stone wall and with a few hundred others briefly crested cemetery ridge in what became known as the "high water mark of the Confederacy," before collapsing with a wound to the head. Two days later, he was promoted to Color Sergeant for conspicuous gallantry. Jones survived his wounds and returned to service following his recovery, and earned further promotions in 1864 to Ensign, and 1st Lieutenant.
Robert was eighteen years old when he enlisted in the Confederate Army on June 25, 1861 in Jamestown. He served with the 53rd Virginia Infantry throughout the war, and was with Lee when he surrendered at Appomattox Court House on April 9, 1865. He made an address at the 25th Reunion of the Blue and the Gray at Gettysburg in 1888.
Robert Tyler Jones was the grandson of President John Tyler. He was the third son of Henry Lightfoot and Mary Tyler Jones and was born in the White House in 1843 during his grandfather's Presidency. Robert's mother died when he was just four years old. He is not listed on the 1850 census with his father and older brothers on their farm in Charles City County, Virginia; he may have been living with relatives following his mother's death.
The Washington, D.C. City Directory of 1890 lists Robert as residing on Corcoran Street, and employed as a clerk in the U.S. Treasury office. In 1891, at age 48, he married twenty-three year old Sally Breeden Gresham. Sally was born in Petersburg, Virginia just after the war. By 1880, her father, an insurance agent, had moved their large family to Herndon, Virginia. Robert and Sally had one son, Lewis Armistead Jones, born June 22, 1893. Sadly, Robert died in May 1895, just two years after Lewis' birth.
Sally G. Jones is listed as a widow, head of a household in Washington D.C in the 1900-1930 U.S. census records, employed as a government clerk; Lewis A. Jones, son, is listed in her residence in 1900-1920. By 1930, Lewis had married and moved to Fairfax County, where he resided with his wife, Francis and daughter, Margaret in the home of his father-in-law, John McMillan, a dairy farmer. Lewis, like his mother and father, was employed as a government clerk. Lewis Armistead and Francis Jones are buried beside Robert Tyler and Sally Jones in Chestnut Grove Cemetery, Herndon, Virginia.
Sources:
1 Brothers and Cousins: Confederate Soldiers and Sailors of Fairfax County, VA, compiled by William Page Johnson, II
2. News in History.Com, a Chronicle of America's Past; Pickett's Charge: Turning Point of the Civil War
3. Ancestry.com
4. Amazon.com; out of print publication reference: Address of Capt. Robert Tyler Jones (Ex-Confederate,): At the reunion of the Blue and the Gray [Unknown Binding] Robert Tyler Jones (Author)
5. victorianvilla.com article, Pittsylvanians Play Key Roles In Three Great Battles, by Henry Mitchell;
6. Video, President Tyler and the Civil War, C-Span Video Library, February 10, 2010

Larger image of marker
Researched and written by Sue Stewart