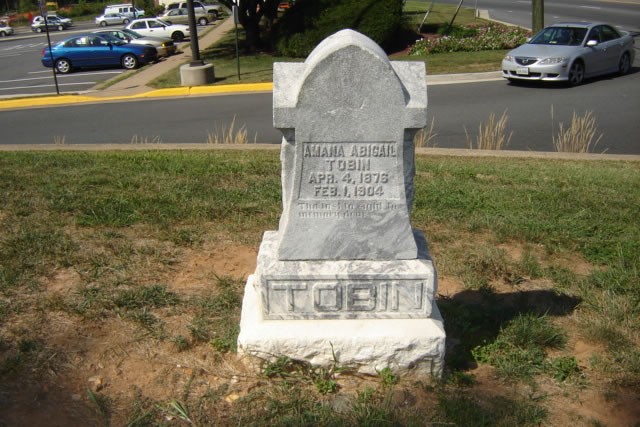 The one- half acre Thompson Family Cemetery stands on a hill surrounded by the Pan Am Shopping Center at the intersection of Lee Highway and Nutley Street in Falls Church.  There are two monument gravestones and many unmarked graves in the cemetery. According to a Thompson family member the first burial was @ 1792.  In 1886 Lawson Turner Thompson designated the cemetery in his will. Today, the cemetery is well maintained.
However in the 1970s, the cemetery was threatened by development and widening of the highway.
Thompson family members, who have at least nine family members buried there, fought to preserve the cemetery.  In October 1979 Alfred Thompson was arrested for "trespassing " as he stopped excavators, by positioning himself in front of their equipment with a sledgehammer.  In court, Fairfax County Circuit Court Judge Thornton ruled in favor to the Thompson family, stating that the burying ground was protected by state law.
Armistead "A.T." Thompson's grave stone is well preserved today.  School teacher Thompson enlisted in the Confederate Army at Dranesville in June 1861. He served in Co. C, 5th  Regiment Virginia Volunteers.   He was captured July 8, 1863 at the Battle of Gettysburg. He died after 17 months imprisonment at Point Lookout, Maryland on November 23, 1864. After the war, his family brought his remains home to be buried in the family cemetery. The Tobin family marker is in memory of Armistead's sister, Laura Thompson Tobin and her family.  John Compton and Laura Tobin had eight children.  According to the 1880 census, John was a farmer and miller.