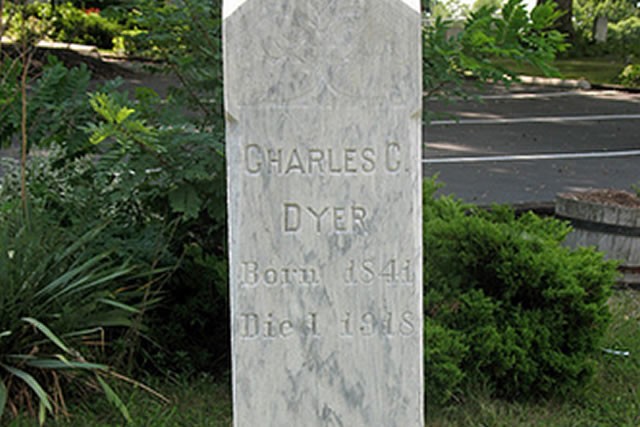 Charles Calfus "C. C." Dyer
Born December 20, 1841
Died March 6, 1918
Place of Birth: Vienna, Virginia
Place of Death: Vienna, Virginia
Buried: Andrew Chapel Cemetery, corner of Leesburg Pike and Trap Road, Vienna, VA (C.C. Dyer's grave is close to Leesburg Pike, as the cemetery abuts St. Athanasius Church.)
How died: Pyloric cancer
Military Service: Confederate Army
Military ranks held: Private, Corporal, Sergeant Major
Units: Companies C & F, 8th Virginia Infantry
Battles/engagements: First Manassas, Ball's Bluff, Gaines' Mill, Second Manassas, Gettysburg.
Charles Calfus Dyer was born, raised and died in Fairfax County, Virginia. He grew up on a farm in Vienna, VA. In 1861, C. C. was nineteen years old. He went to Centreville, Virginia and enlisted in the Virginia 8th Infantry under Col. Eppa Hunton. His unit trained at the Leesburg Fairgrounds and guarded the Potomac River crossings. On July 21, 1861, the Virginia 8th Infantry fought in the Battle of First Manassas and, two months later, they fought in the battle of Ball's Bluff near Leesburg, Virginia. C. C. Dyer was wounded in the hand during the battle of Ball's Bluff. Both battles brought praise from General Beauregard. Mrs. Beauregard made the regiment a flag from one of her silk dresses.
In 1862, Brig. General George E. Pickett took over command of this regiment reporting to Major General James Longstreet. Now the Virginia 8th Infantry was on the move south to the Richmond area where they were involved in four battles. Their participation in the battle of Gaines' Mill on June 27, 1862 earned them the nickname "The Bloody Eighth," which remained with them throughout the war.
When Gen. Robert E. Lee decided to invade the north, the Virginia 8th Infantry became a part of Pickett's Brigade, which brought up the rear. They marched north through Berryville, Virginia; Hagerstown, Maryland and camped out at Chambersburg, Pennsylvania. When the battle of Gettysburg was beginning, the Virginia 8th Infantry was busy destroying the railroad property and government supplies. They did not begin fighting until the third and final day of the battle. The Virginia 8th Infantry became a part of the famous Pickett's Charge, suffering terrible losses. C. C. Dyer survived the charge, but was wounded in his side. Mrs. Beauregard's silk flag was captured by the 16th Vermont Brigade.
C. C. healed from his wound and became a scout on the Lower Peninsula between the James and York Rivers. He was promoted to Corporal on March 30, 1864 and to Sergeant Major on August 25, 1864. On April 6, 1865, C. C. was captured by the Union at Burkeville, Virginia and taken to Point Lookout Prison in Maryland. C.C. was released June 11, 1865, two months after the war was over. Then 24 years old, he was described as having light hair, gray eyes and as 5'7-7/8" tall.
C.C. married Martha E. Money on March 27, 1866 in Washington, D.C. They resided in the Beulah Road area of Vienna, Virginia. They were committed to the community, twice donating acreage for the construction of churches. According to a local newspaper article, the Dyers celebrated their 50th anniversary in 1916 with a party given in their honor at which C. C. Dyer ably demonstrated the Rebel Yell. C.C. Dyer attended the 50th anniversary reunion of the battle of Gettysburg on July 3, 1913 with the John Q. Marr Camp U.C.V.
Sources:
1. Divine, J. E. (1983), 8th Virginia Infantry, Lynchburg, Virginia: H.E.Howard, Inc.
2. Hymas, B. P. (to be released), The Dyer Family.
3. Johnson, W. P. (1995), Brothers and Cousins, Athens, Georgia: Iberian.
4. Millard, C. (1943), History of Antioch Christian Church, Vienna, Virginia.

Larger image of marker
Researched and written by Virginia Rita