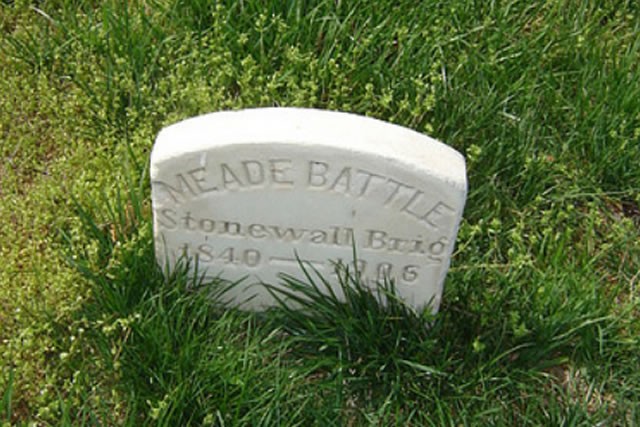 Meade Battaile
Born 1841
Died 1906
Place of Birth: Culpeper County, Virginia
Buried: Fairfax City Cemetery
How Died: Unknown
Military Service: Confederacy
Military rank held: Private
Unit: Company B, 13th Regiment, Virginia Infantry
Battles/engagements: Sharpsburg/Antietam; Spotsylvania Courthouse; likely other actions during the 13th Virginia Infantry's service in the Army of Northern Virginia
Meade Battaile was born in Culpeper County, Virginia in 1841 to Ann (Fitzhugh) and Charles Battaile, who had married in 1823. Ann, whose parents were Richard and Susannah (Meade) Fitzhugh, was a fifth generation direct descendant of William Fitzhugh, who purchased the 22,000-acre Ravensworth plantation in 1685. She grew up in their family home, the circa 1790 Oak Hill house on Wakefield Chapel Rd – the last survivor of three major Ravensworth plantation residences. The 1850 federal census recorded Ann, age 45, as head of household living in Culpeper County with seven children, of which nine year old Meade was the second youngest.
Meade enlisted on May 15, 1862 at Culpeper Courthouse and was assigned to Company B, 13th Virginia Infantry. He soon saw action and was wounded during the Battle of Sharpsburg/Antietam on September 17, 1862. That day and battle are remembered as the bloodiest single day in American military history with about 23,000 casualties. It's also remembered as a turning point for the Union that gave President Lincoln the public support needed to issue the Emancipation Proclamation.
The website, "Antietam on the Web," describes the 13th Virginia Infantry's role during the battle as supporting and defending an artillery unit from attacking Union forces, at one point slinging their weapons to help manhandle field pieces across a muddy field and into position. Then returning to the firing line to hold off Union attackers. Meade was one of about 7,750 Confederate wounded at Sharpsburg/Antietam.
The wound must have been significant, as Meade did not return to duty until a year later in September 1863. Several months following, while participating in the Battle of Spotsylvania Courthouse (May 8 – 21, 1864), he was captured on May 12, 1864. The Wikipedia "Battle of Spotsylvania Court House" identifies May 12 as the most intensive day of the battle, with 9,000 Union and 8,000 Confederate casualties. Meade was among that day's 3,000 Confederate prisoners captured. He was imprisoned at the Union facility at Fort Delaware, DE for the duration of the war. Upon signing a loyalty oath, Meade was released on June 19, 1865.
It's uncertain when Meade and the Battaile family moved to Fairfax County. In 1857, his mother Ann had inherited part of the Oak Hill land, and in 1868 more of the land and the house itself. In 1880, Ann died leaving Meade a one-sixth share of her property – 148 acres on the north side of Braddock Rd. between Accotink Creek and Wakefield Chapel Rd. Today, the area includes Howery Field Park, Oak Hill Park and the subdivisions of Park Glen Heights, Chapel Hill, Chapel Lake and Chapel Lake Estates.
The 1880 federal census recorded Meade living on or near this location in the household of his 65 year old sister Elizabeth with other older siblings Israel, Nancy, and Sue – all of them unmarried. His occupation was listed as "works farm." Between 1882 and 1894, he sold all but about 10 acres of his land in 23 separate sales to both African American former slaves and Caucasians. In 1897, he signed over his remaining 10 acres to settle loans. The small, diverse Braddock Rd. community resulting from these sales continued at least into the 1920s.
Meade Battaile died in 1906 at age about 65. The location is uncertain. His remains were moved to the Fairfax City Cemetery sometime after April 1910. A notice in the Fairfax Herald on May 10, 1910 announced that a Camp Marr CV committee had been appointed "to attend to the removal of the remains of Meade Battaile to the Confederate mound in the cemetery." His headstone inscription reads: "Meade Battle, 1840-1906, Stonewall Brig." (Note: The 13th Virginia Infantry was a unit within the Stonewall Jackson Brigade.)
Sources
1. Descendants of William Fitzhugh, unpublished manuscript by Maddy McCoy, developer, Fairfax County Slavery Inventory Database and discussions with Ms. McCoy
2. US census: 1850, 1880, 1900
3. Brothers and Cousins: Confederate Soldiers and Sailors of Fairfax County, VA, compiled by William Page Johnson, II
4. National Park Service website, "Civil War Soldiers and Sailors System"
5. Wikpedia website: "Battle of Antietam" and "Battle of Spotsylvania Court House"
6. Website Antietam on the Web
7. The Fairfax County Public Library's online Historical Newspaper Index

Larger image of marker
Researched and written by John Browne