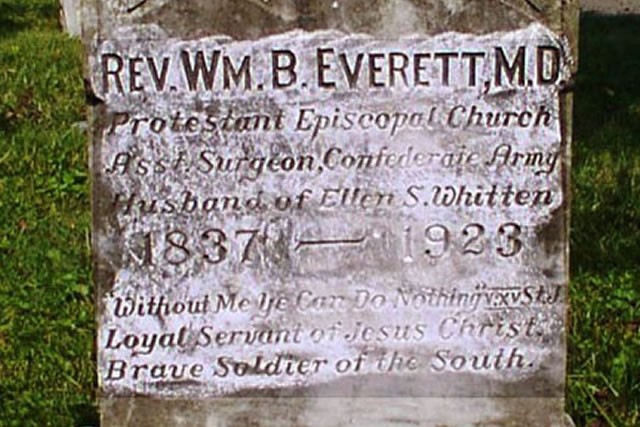 William B. Everett
Born December 19, 1837
Died December 13, 1923
Place of Birth: Kent County, MD
Place of Death: Fairfax, VA
Buried: Fairfax City Cemetery, 10567 Main Street, Fairfax, Virginia
Cause of Death: Unknown – died at home
Military Service: Confederate Army
Military rank held: Captain
Units: Assistant Surgeon, 5th Virginia Cavalry; Assistant Surgeon, North Carolina Troops; Surgeon, 1st Battalion Virginia Reserves
Battles/engagements: Battle of Waynesboro, VA
Reverend William B. Everett was born in Kent County, Maryland, on December 19, 1837, the son of William Bowers Everett and Henrietta Louisa Tilghman. At the beginning of the War for Southern Independence, he was a medical student in Baltimore. During this time, he served with the surgical staff in the citizens' defense of Baltimore. After graduating medical school, Dr. Everett left Baltimore and went south to serve the Confederate Army, enlisting in Richmond, VA on May 20, 1862.
Everett served as a surgeon with the 5th Virginia Cavalry and with the North Carolina Troops before resigning his commission and enlisting as a private at Shenandoah Valley for the 1st Maryland. After receiving word that his command had been demolished, he joined Marquis's Battery of Virginians, acting as assistant surgeon, with the rank of Captain. He was later captured at General Jubal Early's last fight, the Battle of Waynesboro, VA., in March of 1865, and paroled at Staunton, VA on May 1, 1865.
Upon leave, Captain Everett returned to North Carolina, where he married Ellen S. Witten on January 19. After the war, Dr. Everett never agreed to take the "oath of allegiance," though he still resided in Maryland. Years later Everett entered the ministry of the Protestant Episcopal Church, filling charges in Maryland (diocese of Easton) and in Virginia. According to his obituary, Rev. Everett died suddenly, of unknown causes. His family, found him lying in the yard. He was believed to have died about six hours prior to their arrival from Washington. He was buried in the Fairfax City Cemetery, Fairfax, Virginia.
Sources:
1. Brothers and Cousins: Confederate Soldiers and Sailors of Fairfax County, Virginia, compiled by William Page Johnson, II
2. Fairfax Herald, April 6, 1923, page 2
Larger image of marker
Researched and written by Jordan Pimentel